Tiare

-

Indonesia

Liveaboard Inquiry
Why you should choose Tiare:
There only six cabins on board with the diving area separated from the relaxation areas allowing both divers and non-diving customers to be on board.
The upper deck provides a perfect area to enjoy the sun, or to relax during the sunset with the deck in front having the possibility of transforming into a living room, and into a table for outdoor dining. There is a dedicated camera station for photographers and Internet is free on board when there is a signal.
There are temperature and smoke sensors on board and there is a 4 divers to one dive guide ratio and they are equipped with ENOS.
They also organize BBQs on the beach whenever possible and all excursions, local villages, waterfalls, points of interest, are included in the park fees. The boat is almost completely built with recycled wood and all the products for the shower are all environmentally friendly.
Tiaré offers a spectacular experience for divers as well as non-divers, with bright airy cabins, spacious bathrooms and a large front deck where you can socialize, eat under the stars or just relax in the Indonesian sunshine.
With 2 triple cabins that are spacious enough to accommodate two adults and one child or three adults, with under-bed storage to ensure ease of movement around the cabin. The other four cabins, two twin and two double, accommodate two adults each for a maximum capacity of 14 guests.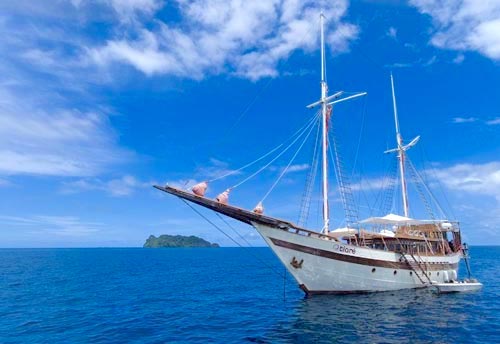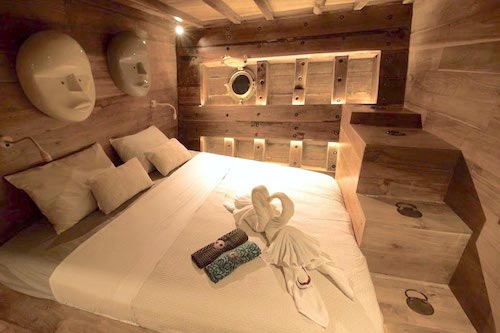 All indoor and outdoor living areas, decks, and cabins are made with antique teak salvaged from old Joglos, which not only gives the feel of "real Indonesia", but has helped to reduce the use of Indonesia's disappearing rainforests.
More like a 5-star hotel than a boat, the six cabins on Tiaré are your home away from home designed with relaxation and the perfect sleep in mind. You'll enjoy soft linens and well thought out lighting and plug placement as well as spacious ensuite bathrooms, hot water showers and environmental friendly body wash and shampoo.
Read the guest reviews
Some of the most frequently asked questions about Indonesia
When is the best time to Go - How to get to Raja - Raja Diving and the Dive sites - How to get to Komodo - Komodo Diving and the Dive sites - What are the advantage of a Liveaboard over Shore diving - Are these trips suitable for non-divers / snorkellers - The Latest Indonesian Travel Information - Other general FAQs
Tiare - prices and what's included
Prices are per person per trip in USD based on 2 persons sharing a cabin.
Exact pricing is available on the schedule here as prices vary dependant on the time of year, destination and the length of the trip and sometimes special offers are available.

The trip price includes :
Accommodation on board as reserved
Soft drinks, tea, American/Balinese/moka coffee, natural juice, local beers
Five meals per day
Diving activities (up to 4 dives per dive day, except on final dive day which is 1-2 dives only depending on guest's flight schedule)
Weight belt and weights
Shore activities and excursions according to the program
Light laundry service
Airport or hotel transfers on day of departure and disembarkation
Government taxes.

The trip price does not include :
Environmental Safety Fees are an additional charge to trip cost, payable in advance with final balance
Administration/port clearance fee
Fuel Surcharge
International and domestic air transportation
Hotels and meals before and after the cruise
Alcoholic drinks, espresso, cappuccino
Dive equipment rental (other than dive cylinders, weights and weight belt)
Nitrox (USD 10 a tank, if full trip 15% discount at the end of the trip)
Dive insurance is mandatory as is your own personal dive computer (You can rent one for the trip if you do not have your own).
As well as the Mandatory Dive Insurance we highly recommend Trip and Travel Insurance on the off chance of missed or cancelled flights / lost baggage, documents, money or passport / Covid issues or any other unforeseen problems that could possibly occur.
Dive Assure Insurance offers cover for all these eventualities as well as complete Dive Insurance all in one package.
Onboard purchases;
Private tours
On-board telecommunications
Crew gratuities
All extra charges, except for Environmental Safety Fees, can be paid on board with cash (IDR, US$ or Euro).
Tiare does not guarantee same sex cabin sharing.
Single surcharge will be applied for guests who wish NOT to share cabin.
If you wish to have the whole cabin to yourself, the single supplement is an extra US$360 per night per person.
Booking and Cancellation Terms and Conditions.
Booking deposit: 30% of your invoice total is required within 7 days of booking to confirm your booking.
Final payment of 70% is due to 90 days prior to the departure date to complete your invoice payment.
Individual bookings made less than 90 days before the departure date will be payable in full upon booking to confirm your booking.
Cancellation at any stage involves forfeit of monies already payed.
Payment can be made via bank transfer, Wise, Credit or Debit card (Visa, AMEX, Mastercard) or Apple pay at no extra charge.
Full charter:
Booking deposit:
10% - within 7 days of booking - non-refundable
Second deposit:
20% 180 days prior to departure - non-refundable
Balance due
90 days before departure - non-refundable

Diving Equipment Rentals (USD)< Per day
Full Set (regulator, octopus, BCD, wetsuit, mask, fins) $ 35
Regulator with octopus $ 10
Computer $ 10
BCD $ 10
Wetsuit (shorty 3mm) $ 10
Mask, snorkel, fins $ 7
Torch $ 10
Tiare - cabins
More like a 5-star hotel than a boat Tiare has six cabins.
With 14 guests on board Tiaré is comfortable and spacious enough for both a social atmosphere and space to relax and enjoy down time in the luxurious cabins.
Double Cabin

Twin Cabin

Twin Cabin

Twin Cabin

Triple Cabin

Triple Cabin
Lower Deck Twin Cabin
There are two Twin cabins, accommodating two adults each in single beds.
Each cabin is equiped with: Pitcher of fresh water and glasses, Shampoo, Body milk, Hair dryer, Shore set (hat, towel, suntan lotion, thermos), 2 combs, Mosquito repellent, Fire detector system, Conditioner, and Air conditioner.
Lower Deck Double Cabin
There are two Double cabins, accommodating two adults in a double bed.
Each cabin is equiped with: Pitcher of fresh water and glasses, Shampoo, Body milk, Hair dryer, Shore set (hat, towel, suntan lotion, thermos), 2 combs, Mosquito repellent, Fire detector system, Conditioner, and Air conditioner.
Lower Deck Triple Cabin
There are Two triple cabins are spacious enough to accommodate two adults and one child or three adults, with under-bed storage to ensure ease of movement around the cabin.
Each cabin is equiped with: Pitcher of fresh water and glasses, Shampoo, Body milk, Hair dryer, Shore set (hat, towel, suntan lotion, thermos), 2 combs, Mosquito repellent, Fire detector system, Conditioner, and Air conditioner.
Tiare - itineraries
Raja Ampat - 8 Nights sample itinerary
Note: This itinerary may vary depending on weather conditions, flight timetables and other unforeseen circumstances.
Airport: Sorong. International flight to Jakarta or Manado and then domestic flight to Sorong.
Day 1
After boarding Tiaré you'll embark on the journey of a lifetime about 12 o'clock from Sorong into the waters of Raja Ampat. Raja Ampat means 'Four Kings', referring to the 4 main islands of Waigeo, Salawati, Batanta, Misool (there are actually over 1,500 small islands). Most of Raja Ampat is protected by the Indonesian government so you can expect pristine corals and an abundance of sea life. Of course visibility can vary depending on the weather conditions, but water temperatures stay around 27-30°c (81-86°f).
Days 2
The first two dives of the day are at Manta Sandy, well-known to divers as it is one of the most consistent spots for finding congregating mantas.
It is easy to spend a whole dive observing these majestic animals as they somersault through the water while being cleaned by several species of wrasse and even butterfly fish. They also come to feed on plankton carried along by the currents, so can be seen on the surface as well. With a bit of luck you'll witness the unforgettable sight of a "manta train", where half a dozen or more mantas glide around feeding. Your afternoon and night dives are at Arborek Jetty. In the shallows the jetty posts are covered in soft corals and further down you're likely to see pipefish and cuttlefish. Watch local children jumping off the jetty and smiling for your cameras and even join in the fun! On the reef giant clams nestle in the pulsing soft corals and at search for blue ringed octopus, hermit crabs, skeleton shrimp and flatworms. At night you might even be able to hear toadfish croaking. Between dives you will have the chance to visit the village on Arborek Island to discover the very traditional way of life these island people live. Bring along some little presents like writing or colouring supplies or hair accessories for the kids of the village and you'll see them light with smiles like you've never seen before.
On days 3, 4 and 5
you'll be in the Gam or Penemu areas diving the many extraordinary sites there.
Between Gam and Yanggelo Islands, Citrus Ridge offers gorgeous white sand contrasting the yellow and orange corals that teem with glassfish, sweetlips and batfish. Moving on to Takat Yanggelo (north & south) you'll see similar species as well as huge schools of snappers, barracuda and fusiliers. Dive with black and white tip sharks at Woebegone and also have a search for the tricky blue ringed octopus. Still between the 2 islands, Mangrove Ridge is a ridge extending out from Tangelo covered in black corals and huge sea fans. Explore the shallows of the mangroves where many species of juvenile fish, cardinal fish and archerfish hide in the roots of the trees. You'll then head to Penemu, an island west of Waigeo with a selection of dives sites, the most famous being Melissa's Garden. Shallow hard coral reefs here are home to hundreds of anthias dance and also sea snakes. The long, submerged seamount at Takat Penemu has a beautiful coral garden sloping to where where schools of fish hang out in the currents. Have a peek inside the large cup corals where Wobbegong sharks like to sleep, and visit Penemu Wall, My Reef and Harto's Reef for more incredible sights. At Penemu Island you will also have the chance to stop and climb to the highest point of the island to admire the entire lagoon from above.
Day 6, 7 & 8
The Dampier Strait, located between Waigeo and Batanta Islands is known to have some of the most nutrient-rich and spectacular diving in Raja Ampat. The currents passing through the strait make for the perfect diving situation and you can expect to see incredible corals housing just about every species of fish as well as prized macro subjects like the recently discovered Pontohi pygmy seahorse.
Sardine Reef is a popular dive spot, which ironically isn't home to any sardines. However, you will see a stunning reef covered in huge sea fans, soft corals, enormous orange elephant ear sponges and schools of fusiliers, surgeonfish, trevallies, rainbow runners, sweetlips and bannerfish. In fact, at this site the fish are so abundant you may hear the unique sound of "fish thunder" – the surprisingly loud sound of a large number of fish moving in synchronisity. Other dives in Dampier Strait include Chicken Reef, Kerupiar Island and Friwin Bonda. Dives over these 3 days will also include Cape Kri, which holds the impressive record of 374 fish species identified during one 90-minute dive, Otdima Reef and Blue Magic. This is a submerged seamount where you may encounter giant manta rays. Saonek Jetty or Jembeser Jetty are ideal for night dives; you'll have the chance to see bobtail squid, octopus, stargazers, ghost pipefish, toadfish and lots of nudibranchs at these sites. If you'd also like to see some of the incredible animal life above water, take a hike in the jungle to see Papua's famous Birds of Paradise. There will be an extra charge for this tour and it is dependent on the weather and all of the guest's preferences. Depending on the weather conditions and flight times the next day, the last full day of the cruise will include 1 or 2 dives at one of the above sites. After the dives you'll cruise back to Sorong.
Day 9
Say goodbye to your crew over one last Tiaré breakfast and then head on to the airport in Sorong for your outbound flight. - how to get to Raja Ampat.
Komodo sample itinerary
Airport: Labuan Bajo. International flights reach Bali, then domestic flight to Labuan Bajo.

Have you ever wondered what it would be like to be face to face with a dinosaur? In Komodo your dream can come true. Komodo and Rinca are the only places where we can still find these Komodo Dragons in the wild.
These small, brown scorched-earth islands fringed with sandy beaches are lapped by the clear waves of the national park, where you may even see the dragons patrolling the beach or viewing you from a high rocky outcrop.
Below the surface there will be many more wonderful creatures you may have never seen before in your life, like the hobbit worm or a rhynopia, a lady bug or skeleton shrimp.
Komodo is not only famous for it macro life, there is an abundance of fish and corals due to its mineral rich waters. Don't be surprised to see some beautiful pelagic, like sharks or mantas.
The water is not always warm, in fact it can be decidedly cool. The seas are not always calm, the currents can rage but the abundance of pelagics, more critters and interesting macro-action than you could imagine, the dazzling colours and diversity, make scuba diving here truly legendary.
Due to it geographic location, right in between the Indian ocean and the Flores sea in the North, we can expect stronger currents.
Don't miss… diving at:
Castle Rock, Crystal Rock, Karang Makassar (Manta, Manta, Manta !!!), Cannibal Rock, The Cauldron, The Shot Gun, Cannibal Rock …more than 40 diving sites.
More info:
Water temperature: Water temperature: 19-28°C. Around Southern Komodo and Rinca Islands the water temperature drops drastically 24-21°C, a 5mm long suit is advised and hood and booties are strongly recommended.